There is an example I'd like to share with you from the very beginning of my property journey.  The boiler needed its annual service and of course one of us needed to be home during the day.  At the time I'd left my banking job in the City and was working for the NHS locally, so working from home was relatively easy. My property coach kept saying tell everyone what you do as you never know who might be interested in investing, practice at every opportunity.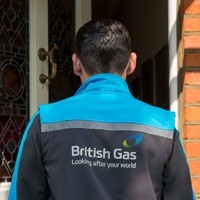 So a British Gas engineer, lets call him Paul, came and I offered to make him a cup of tea.  He seemed friendly and certainly knew his stuff about our old fashioned upright boiler in the kitchen.  I told him I was tired as I've been doing two jobs and that I was learning about property investing which I felt was something I could make good returns from.  He stopped what he was doing and sipping his tea he expressed an interest, telling me he'd been along to a pin (property investors network) meeting himself.  That was a coincidence I thought.  Giving him a very brief example of a deal I'd done and that I was seeking investors for the next one, which was going to be a house of multiple occupation (HMO).  He asked a lot of questions and said he knew a millionaire once – but he was a shark!
Paul was keen to learn so I gave him my card and said I'd be happy to show him around one of my properties.
To cut a few conversations out of the story, he said he'd be happy to lend me some funds for cashflow purposes for a few months.  We drew up loan documents, paid the money back at the allotted time and we got to know each other and build the trust.  He came around a few properties but the big one around 9 months later was a large commercial property.  This time I wasn't looking for short term loans but joint venture partners.  I had no idea that he might have more funds in the background, but he said he'd like to invest and he continues to be a great JV partner and to be a hands on partner with us.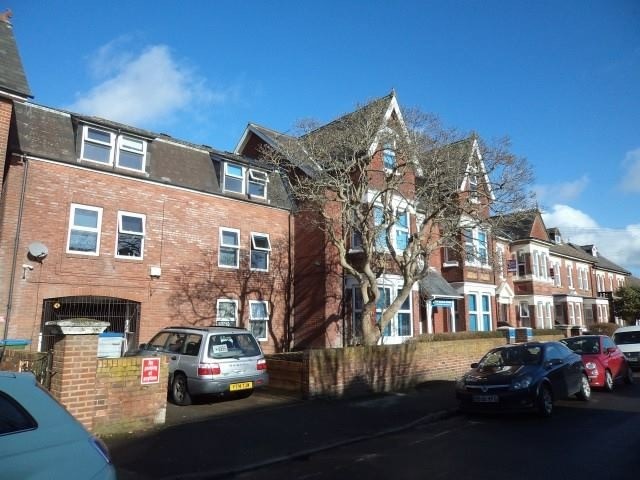 The lesson from this situation is that a complete stranger becomes a friend and investor just because I mentioned what I was doing.  I didn't ask him for money, I had no idea he might have cash sitting in a bank.  Paul tested me out with a small short-term loan and then over time got to know me, was genuinely interested in learning and became more comfortable with a larger investment.
So never judge anyone, just build rapport.
What do I say to them?  How to ask if they'd like to invest?
Well here's the thing, you never ask directly, but you show them how investing in property works, how the possibility of high returns can be possible and use an example (your own if you have one, or someone elses if not).  Most people are concerned about the risk and the possibility of not getting their money back, so making it real and giving examples helps.  A simple question to ask is "is there anyone you know who might be interested in investing?"
The fact that interest rates in the bank are so low, and there is a lot of frustration for savers, makes it easier to talk through.  But I also never talk about the interest rate I would offer at this early point.  Why?  Well because it depends on what someone is looking for and how much they might want to lend.
In my example above, I asked Paul what rate of interest he was getting on his money currently.  It was probably less than 2%pa.  So the next question is "if you were to lend some funds to me what sort of return would you be happy with?"  It might be 5 or 6% perhaps.  Then it's about how long would they be happy to lend for.
As an ex-banker I am very comfortable talking about borrowing and lending, although I must say when its my own risk then it does feel very different.  I suppose my experience gives credibility to my lenders too.  So if you're not so comfortable then its about practicing and trying out the conversation with family and friends.  Have some research to hand of how the property market works, capital values of properties and the demand for rental trends.  Then you'll get honest opinions and arguments about the problems, often gained from the media, and you can practice overcoming these.
How long might someone lend for?  If it's the first time and you don't know them well, then it ought to be a short-term loan.  Once you get to know an investor and they get to trust and learn about what you do – then you've got a huge opportunity to plan for a potentially bigger and longer loan.  The type of deal is then entirely down to what works for them.  Every investor is different – are they happy to tie the funds up and get a regular return for a while?  Do they want a fixed return for a fixed period?  Do they want to share risks or get a guaranteed return after a period of time?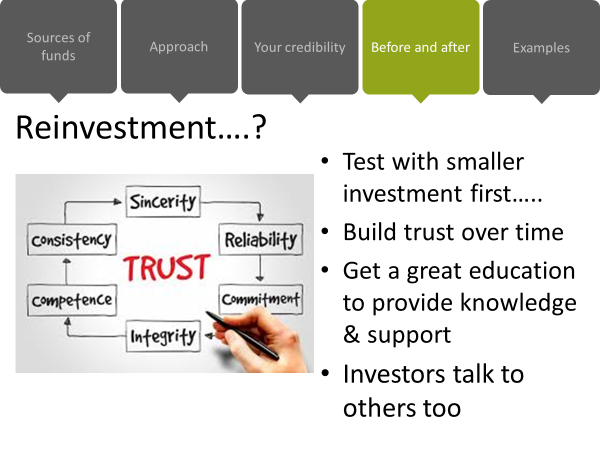 As you collect interested people, you can then choose who might be the best investor for the type of project.  Or you might go and find a type of deal that suits an investor, even taking them around and getting them involved if that's something they'd like.
It does take time, it's a numbers game, so the more people you can tell, the more you will find interest.  It important not to be a desperate borrower and have a deal you can't fund.
---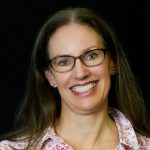 Property Investor and coach, Bronwen Vearncombe, has built a successful business over the last few years and been able to give up her full time corporate job and find freedom.
Having been told she'd not be able to retire until aged 67 – she knew there must be a way to escape and to spend more time with her husband and two children, and maybe even be her own boss!
Learning from the best, she and her husband worked hard to get a great education and to understand the risks and opportunities that property can provide.  This led to a portfolio of single lets, multi-lets and commercial guest houses in Hampshire, often purchased with private investor funds, and most importantly created to provide a passive income.  As an ex-banker, she certainly isn't afraid of borrowing and lending and is particularly skilled at finding investment and working collaboratively with others.
Featured in national property media, leading a monthly property networking group for over 2 years and a property Mastermind programme in Winchester, Bronwen loves to share her knowledge and to help others get onto the investor ladder of success.  Her programme of pre-recorded webinars and coaching enables easy but supported learning of the very foundation steps and uses examples from her own portfolio too.
Whilst starting to follow her dreams, she's currently travelling the world as her husband does the Clipper Round the World yacht race 17-18. Able to use technology to combine her adventures with the business and coaching too, she is proving that a passive property income can work.
Social Media links:
WEBSITE:             https://propertyinvestingfoundation.com/about/
FACEBOOK:        https://www.facebook.com/propinvfoundation/
LINKEDIN:           https://www.linkedin.com/in/bronwenvearncombe/
TWITTER:             https://twitter.com/bronwenv64  @bronwenv64
INSTAGRAM:     https://www.instagram.com/bronwen_pif/
YOU TUBE:          https://www.youtube.com/channel/UCXIQQ9BD9LuDYbHJv3-O6og